MAINTENANCE

We maintain a 24/24x7/7 service for :
Your safety problems in case of leaking or biogas migration.
Your needs of assistance for repair of biogas lines.
We have the necessary equipments and materials for the good accomplishment of our work.
We have an important stock of spare parts for any type of repair or maintenance of your installation.
The training of our employees in charge of the mounting, functioning and safety of the destructive biogas installations is done by our technicians, during the starting phase.
Furthermore we offer an operation and maintenance manual.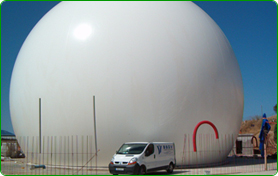 MEASUREMENTS, DATA TRANSMITION

We install measurement divises for flowing liquids, solids or gaseous (biogas, smoke, dry particles/ducts, rain water, sources, streams, leachate, available water), with remote radio transmitted data.
hese installations permit punctual and continuous measurements; they are connected to the electric line and in case of failure they work on solar energy.
REMOTE MONITORING

We assure by ways of remote monitoring the management and course of the installations on a 24/24 x7/7.

This monitoring allows a risk, damage or interruption management, besides furnishing information to the owner about the running of the installation.

After troubleshooting, we can either activate the intervention of the emergency services (fire), or intervene directly in the installation (alarms CH4, 02), or change the criterion at distance in order to correct the parameters or command values of the functioning.

EXPLORATION

We guarantee the exploration of the instalations done by us during or after the deactivation.

We can guarantee the financing and the exploration of :
Degasification places.
Valorization units.